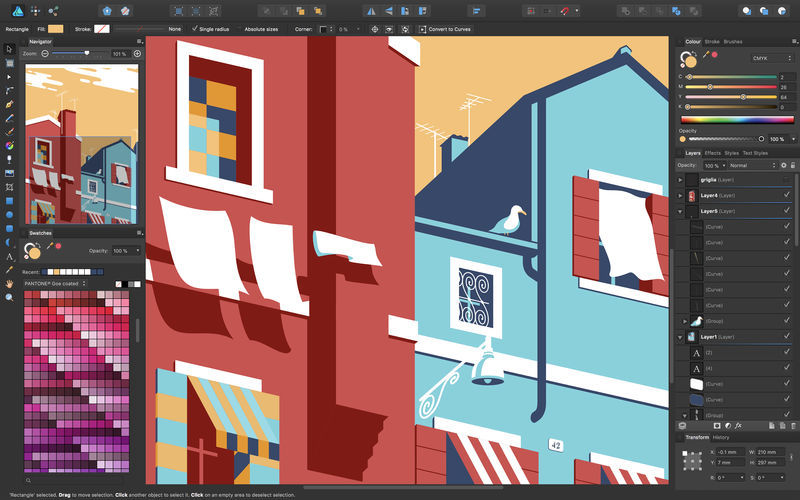 The main benefit of Affinity Designer is its advanced creative tools. Here are more of its benefits:
For one thing, Affinity Designer is a big help to professional designers who want to create vector graphics, illustrations, and projects with accuracy because its zoom feature can go as far as 1,000,000 percent. It's an invaluable tool especially when they're working on artboards that have a lot of detail. The software's versatile grid system also allows designers to set up grids when they create icons and isometric video game graphics. This translates to full control over spacing, angles, subdivisions, and gutters, resulting in accurate layouts.
Precise object creation is also possible with Affinity Designer. On-screen dynamic guides enable designers to have objects and designs laid out with the correct alignments and measurements. The software's snapping options also allows designers to lock and position objects and elements based on a number of things, such as shapes, grids, alignment guides and nodes of other objects.
Likewise, Affinity Designer's rope and window stabilizers allow users to create beautiful vector illustrations because it gives them the capability to create smooth and accurate curves. Non-destructive Boolean operations cannot only combine shapes, but also move and edit their component parts. A wide selection of colors can be used to further enhance their illustrations.
Affinity Designer also enables users to work with just one app when creating both pixel and vector graphics. Affinity Designer's combines pixel art environments and vector art environments, so users can switch between pixel mode and vector mode without opening another program. When in vector mode, designers can do vector inking and coloring. Switching to pixel mode enables them to user raster brushes, select pixels, and add adjustment layers.
Users can also apply for their work on a single project to an unlimited number of artboards. Affinity Designer's advanced memory system is perfect for teams and businesses handling complex projects.