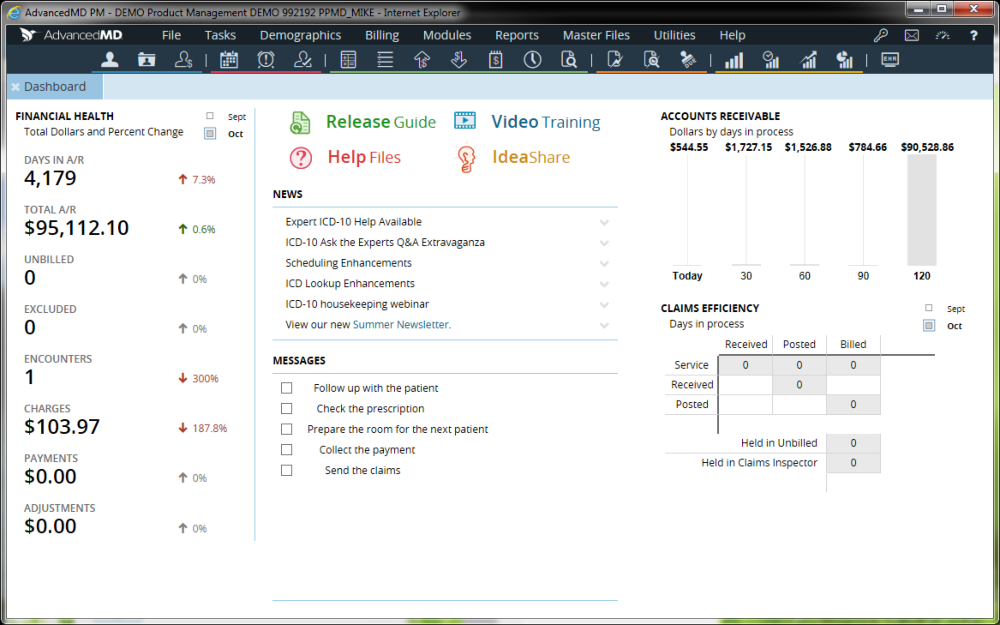 The main benefits of AdvancedMD are its patient-encounter documentation, its mobile app, and its physician dashboard.
Clinicians designed AdvancedMD so that the accuracy of clinical outcomes and information can be improved. Clinicians will appreciate the solution's flexible and customizable patient-encounter documentation, as it allows them to go with their own style and working methods.
Even when they are on the go, users can be assured that they can look at and manage their calendars, to-do lists, messages, and so much more, thanks to the mobile app for iOS. Important items in documents, prescriptions, orders, notes, result, and more can be flagged through the high priority check box.
Inbound or outbound documents can be sent, saved, and organized with confidence with e-faxing, while the management of renewals and prescriptions are made easier by HIPAA-compliant e-prescribing.
Both clinicians and patients can be automatically sent medical advice, reminders, and best practices through the solution. High priority patient care items and daily schedules can be viewed through the physician dashboard, while staff can correspond and act quickly with the help of the internal messaging system.
The solution's functionalities can be extended with various add-ons that stretch how far a user's resources can reach. Continuity of care and enhanced clinical decision support are offered by HealthWatcher. Users can issue digital prescriptions and have controlled substances monitored with Advanced EPCS. Prescriptions can also be signed and sent directly to the pharmacy with this feature. The patient experience can be enhanced with the Telemedicine feature, which is also an added revenue stream for the user.