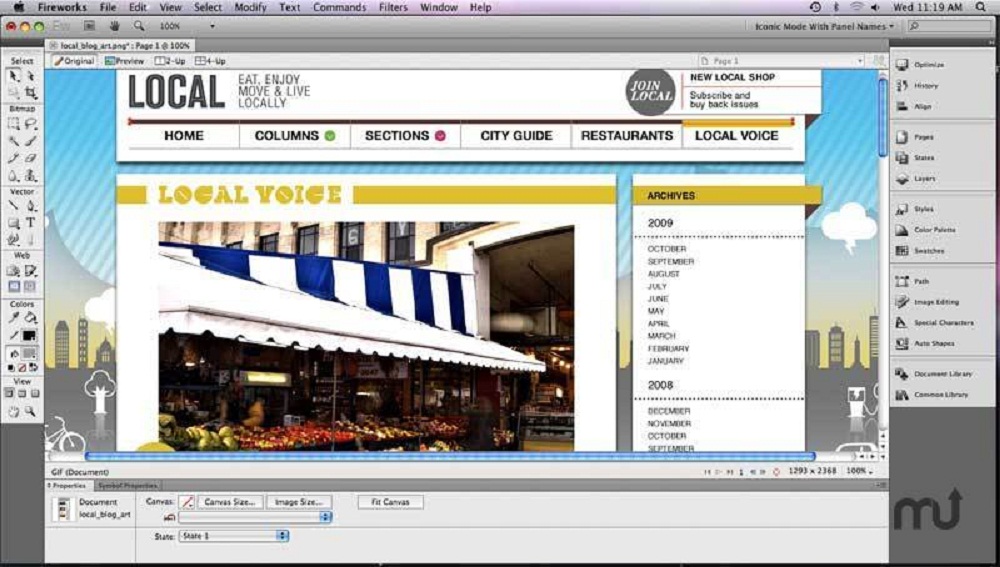 The main benefits of Adobe Fireworks are its rich and numerous features for creating and editing images, tools that aids in the optimization process, and its support for widely used formats. Here are more details:
Robust image editing software
Adobe Fireworks is designed to provide easier ways for creating and editing bitmap and vector images to be used for apps and websites, such as in rollovers and pop-up menus. The system has tools for simplifying graphics optimization and cropping processes while facilitating the automation of repetitive tasks. There are tool panels as well that include bitmap and vector drawing and editing tools that allow users to expend less time in getting more things done.
Fireworks also acts as a centralized platform where users are able to do most of the tasks regarding app and website images. It provides support for extracting CSS code from designs to be used for creating CSS sprites. The coding process is also reduced to a minimum since Adobe Fireworks support jQuery Mobile themes and the new CSS properties. Preview is provided as well so that users are able to view the changes instantly from within the system.
Optimization tools
Adobe Fireworks is lined with various robust optimization tools that allow users to achieve the ideal balance between size and visual quality, two important elements in app and web graphics. Through this, quality-size balance can be chosen according to the projects' requirement and content.
Supports a variety of formats
Users are able to save the files in various formats which can effectively reduce its size. Image formats supported include GIF, PSD, PNG, and JPEG. Apart from those, the image files can be saved with HTML files as well, to be used for web purposes. After optimization of formats, such as HTML tables and animated GIF, it can then be exported easily to the web.