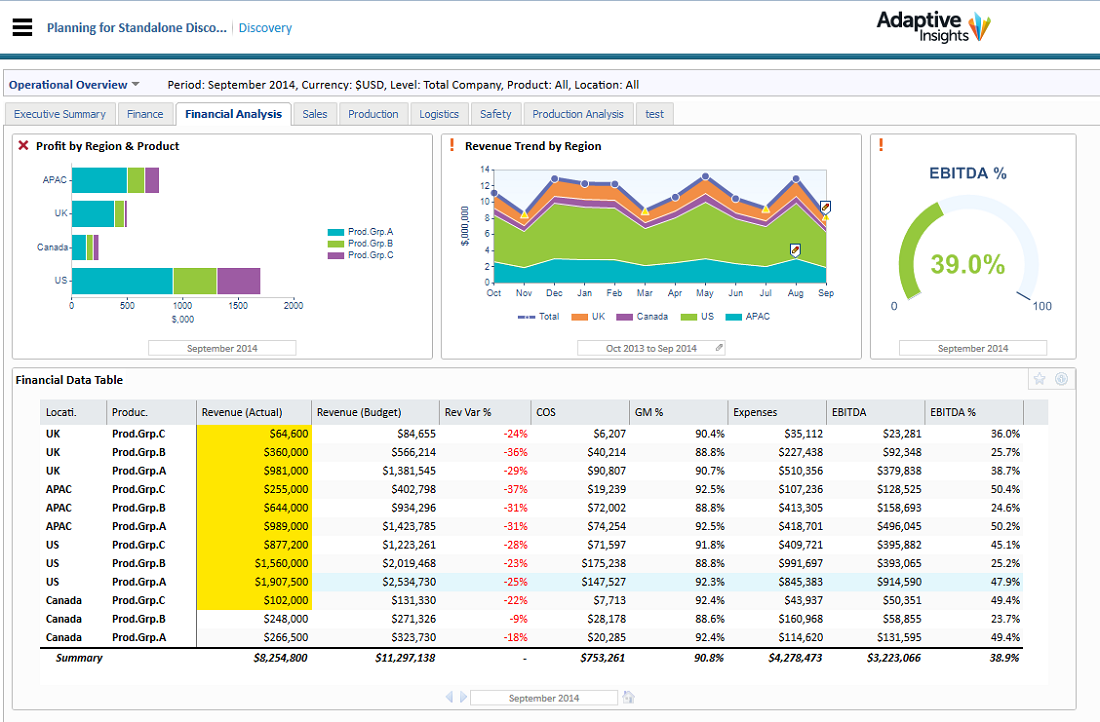 The main benefits of Adaptive Insights are its comprehensive CPM modules, Adaptive Planning feature, Adaptive Discovery building block, and Adaptive Reporting functionality. Here are more details:
Reliable CPM modules
The solution is designed to be powerful, fast, and easy. Thanks to its reliable CPM modules, it is capable of maximizing business visibility into the expenses, headcounts, revenue, plans, and forecasts. The modules also delivery key functionalities which easily allow streamlining of financial close and managing profitability.
Adaptive Planning
One of the Adaptive Insights' standout modules is the Adaptive Planning which is developed to remedy the slow and manual forecasting, budgeting, and planning processes. With this, users won't have to deal with static spreadsheets or fix calculations and broken formula. It guarantees integrity, flexibility, and centralization of actuals, cell notes functionalities, calculations, plans, forecast, and budgets. Moreover, the module empowers users to work from a foundation of data which builds accountability and trust. This makes the planning process smoother and easier to scale with their business.
Adaptive Discovery
Another highlight feature of the system is the Adaptive Discovery which offers self-interactive dashboards, data visualizations, and charts; all of which can be easily personalized and shared. It provides users with the freedom of analyzing live financial and operational data gain in order to gain essential business insights. It cuts down the time in reports creation and cross-referencing cycle, thus, providing more time for advising operation executives and managers.
Adaptive Reporting
Adaptive Reporting module offers user-friendly financial and management reporting capabilities. It provides managers as well as finance teams with an intuitive and interactive self-service financial data analysis. The module empowers users to drill down into important details quickly and easily.