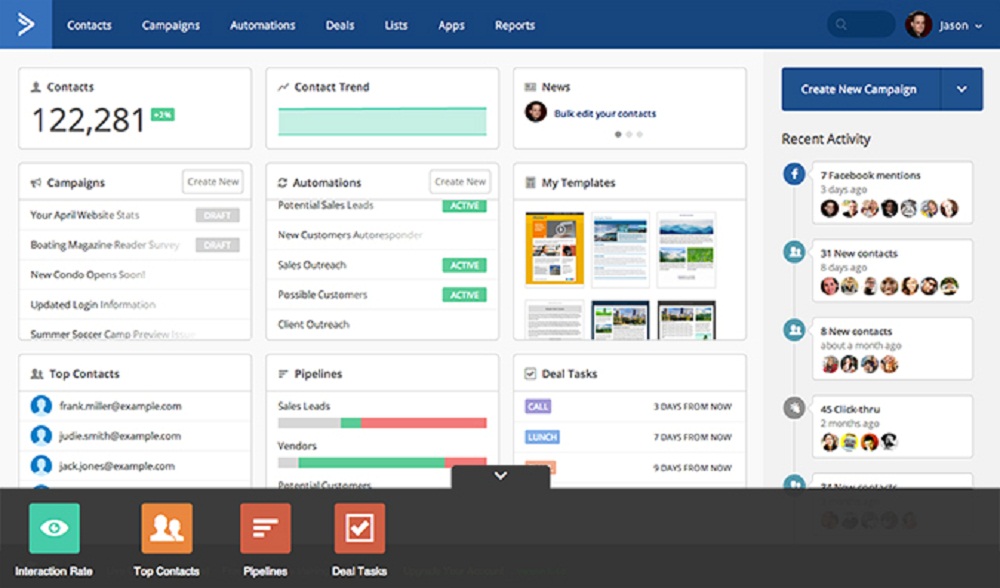 The main benefits of ActiveCampaign are the site tracking feature, conditional content for dynamic information, event tracking tool, easy to use API, and Sales CRM. Here are more details:
Site monitoring
Site Tracking is a feature that connect marketing to a certain contact's behavior. This allows users to respond to customers based on what they are doing on the website. This way, users are able to adapt their market to the interest of their current or potential clients. To achieve that, Site Tracking feature enables the system to view what a contact does in the users' site. An entire page view history is attached to each contact record so that users are able to see what exactly have they done and haven't done in their site.
Conditional content
Conditional content enables users to dynamically change content on per contact basis. For example, users can display completely different blocks of text or images on an email depending on what webpages have been viewed or how contact is tagged. This feature can also be utilized when sending out a notification of contacts of sale via email or when displaying certain products that have to be viewed in the past.
Event monitoring
ActiveCampaign has a feature called Event Tracking that enables communication with contacts about specific actions they have taken to the system. That information can then be used to make highly personalized marketing. Event Tracking can be used for notifying the system as well when users log into the users' website. It can also be utilized when making a transaction and triggering follow up campaigns.
Intuitive API
One of the highlight features of ActiveCampaign is the ease of use of its API. This is an essential feature since allows users to easily and fully integrate the system with their existing apps ecosystem. They can also extend their capabilities if needed.
Sales CRM
The system's automation tools also function as CRM which allows for a smooth transition from marketing to sales. This marketing automation that can be used during the marketing process is also the same marketing process that can be leveraged to automate numerous tasks on the sales process.