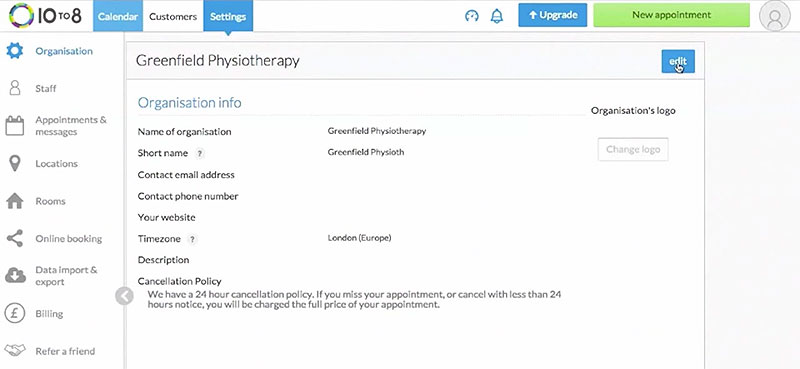 The main benefits of 10to8 are its sophisticated scheduling features, data security, and mobile support. Here are more details on its benefits:
10to8 is an efficient online scheduling service that offers a range of sophisticated features. Your customers can use the web-based scheduling features to make or cancel appointments online. You can use the attractive automated forms to embed scheduling services on your websites and enable your clients to manage bookings any time of the day or night.
You'll notice in many 10to8 reviews that one of its benefits is its efficient calendar sync feature. The app integrates seamlessly with popular calendar solutions and instantly updates entries which means there are no double entries for a specific time slot. Plus, it offers a digital notepad you can utilize to keep client notes and store their history. Healthcare clinics will find the notepad especially useful as they can record patient history. Other businesses can also use it to gain traction with potential buyers and active customers. The best part is 10to8 collects and stores all data in a single hub that managers can access from anywhere, anytime with mobile as well local devices.
You can send email text reminders to ensure your clients show up on time for the appointment. This means you can save effort and time communicating with clients about their appointments. Another important benefit is managers can adjust their opening times, increase working hours, and manage holidays according to company policy.
As mentioned above, 10to8 is compatible with desktops as well as mobile devices. This means you can work from your office as well as from remote locations. Plus, you can access the calendar from anywhere to make adjustments to your schedules if needed. On top of that, you can manage multiple calendars simultaneously and organize the appointments and availability of your team members.
10to8 offers payment processing facility that you can use to receive advance amounts from your customers. This reduces the chances of cancellations and missed appointments. Another benefit is you do not have to use costly third-party systems to manage financial operations. Finally, the app offers several useful integration alternatives. You can check out this 10t08 review for more details on what the vendor has to offer.